Santa David Bates is a real-bearded Santa, a member of the International Brotherhood of Real Bearded Santas, and 2017 is his thirteenth Christmas season as a Santa.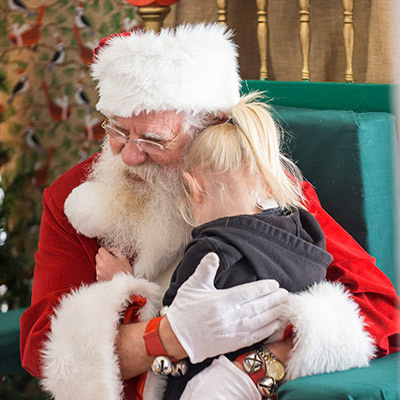 David is a lifelong Oklahoman and has been a Tulsan since 1969. He is retired from Saint Francis Health System. He is married with two children and five grandchildren. He and his wife are active members of First Baptist Church in Tulsa.
David's wife Sandy, who appears with him as Mrs. Claus, taught Kindergarten at Catoosa Elementary School for 28 years, and she hosts the weekly Storytime for preschool children at the Catoosa Library.
His 2017 season is filling up with events -- including a return to Gilcrease Museum on December 17, 2017, for Funday Sunday with Santa -- but there are still some dates available! To book Santa David for your event, send an elf mail to Santa_Tulsa@yahoo.com
You can learn more about Santa from this 2010 Tulsa World feature story about Philbrook's Santa and the accompanying Q&A, this 2008 Urban Tulsa Weekly profile of Santa David Bates, a 2013 profile in Tulsa People, this 2014 Tulsa World story on grooming bushy beards, a 2015 Tulsa World interview by Scott Cherry, and in this tribute column by his son, Michael Bates.